By DAILY MAIL REPORTER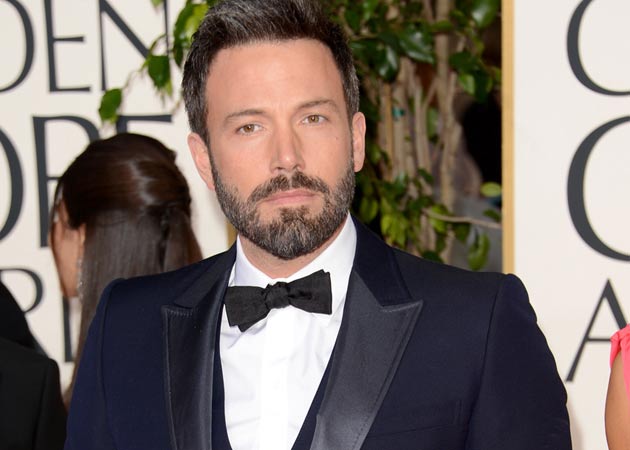 Ben Affleck wins Best Director for Argo at Golden Globes 2013
Ben Affleck
has some big shoes to fill.
The Oscar winner has been cast as the new Batman, replacing Christian Bale as Bruce Wayne in the upcoming Man Of Steel sequel, Warner Bros. announced Thursday.
The Argo director will be the eighth actor to play Batman, following in the footsteps of such luminaries as George Clooney and Michael Keaton.




Ben Affleck accepting the Best Picture Oscar for "Argo" earlier this year.

'We knew we needed an extraordinary actor to take on one of DC Comics' most enduringly popular Super Heroes, and Ben Affleck certainly fits that bill, and then some,' WB president Greg Silverman said in a statement.
The untitled film will be helmed by Man Of Steel director Zack Snyder, and will also star Henry Cavill, Amy Adams and Diane Lane reprising their roles.

Ben Affleck has been cast as the new Batman in the Man Of Steel sequel, Warner Bros announced on Thursday, pictured in June in LA

'Ben provides an interesting counter-balance to Henry's Superman,' said the director.
'He has the acting chops to create a layered portrayal of a man who is older and wiser than Clark Kent and bears the scars of a seasoned crime fighter, but retain the charm that the world sees in billionaire Bruce Wayne.
'I can't wait to work with him.'
The movie will bring the two superheroes together for the first time on the big screen.
Last month's announcement of the film at Comic-Con excited fans and fueled speculation as to who would play the famous Caped Crusader.
Ben isn't new to the superhero genre, having played George Reeves, a former Superman, in the 2006 film Hollywoodland. He also played Daredevil in the 2003 movie of the same name, where he met his future off-screen wife Jennifer Garner.
The film is scheduled to start shooting in 2014, and has been slated for a July 17, 2015 release.
But while producers are excited, fans are split over the choice.
Hundreds immediately took to Twitter to voice their opinion on the casting choice, with many deeming the news a 'catastrophe'.

Ben Affleck as #Batman is the worst thing to happen to the franchise since George Clooney's bat nipples...#WTF', George pictured as Batman

'Ben Affleck as #Batman is the worst thing to happen to the franchise since George Clooney's bat nipples...#WTF,' wrote Jill Pantozzi.
Meanwhile, Shae Connor tweeted: 'Jesus. I leave Twitter for, like, a minute, and you guys let Ben Affleck get cast as Batman? YOU HAD ONE JOB!'
'Really looking forward to seeing Affleck bring the depth and gravitas to Batman that he brought to Daredevil and Gigli,' wrote Will Wheaton, referring to some of Ben's less lauded film roles.



But others appeared pleased by the news.
'So I really like Ben Affleck...I'm actually pretty pumped. #batman,' wrote Hatley Moore.
Chris Williams tweeted: 'I'm sorry but Ben Affleck as #Batman makes sense to me. I had him in my top 3.'
And celebrities also jumped on the bandwagon, bringing their own brand of humour to the proceedings.
Richard Dreyfus joked about the role, tweeting: 'You read for a part, you feel good about it, you feel confident, then they cast Ben Affleck.'
'I want to congratulate Ben Affleck on winning the part of batman it was some battle but you won fair and square,' wrote Chris Rock.



Apart from his new news, Ben is also experiencing a bumper year career-wise.
The father-of-three was recently cast in David Fincher's adaptation of the runaway bestseller Gone Girl.
The star also starred in and directed Argo, which won Best Picture at this year's Oscars.



source: http://www.dailymail.co.uk/tvshowbiz/article-2400713/Ben-Affleck-confirmed-play-Batman-Man-Of-Steel-sequel--fans-split-surprise-choice.html
My Facebook
My Google+
Contact me